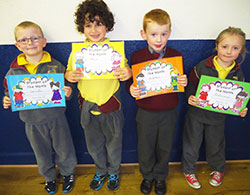 Rathregan National School is a Catholic, co-educational primary school in which we endeavour to create happy, positive, caring and trusting relationships.
We acknowledge and totally support the role of partnership in this process; pupils, parents, staff, parish and visitors.
A holistic endeavour to develop the emotional, moral, social and spiritual growth together with the intellectual, physical, creative and religious development of each child under the patronage of the Bishop of Meath and the Catholic Church.
Further, to create a positive and challenging attitude to education and to teach the children how to learn.